Webinar on Society 5.0
09 June 2021
Online | 9:00AM (GMT+08:00)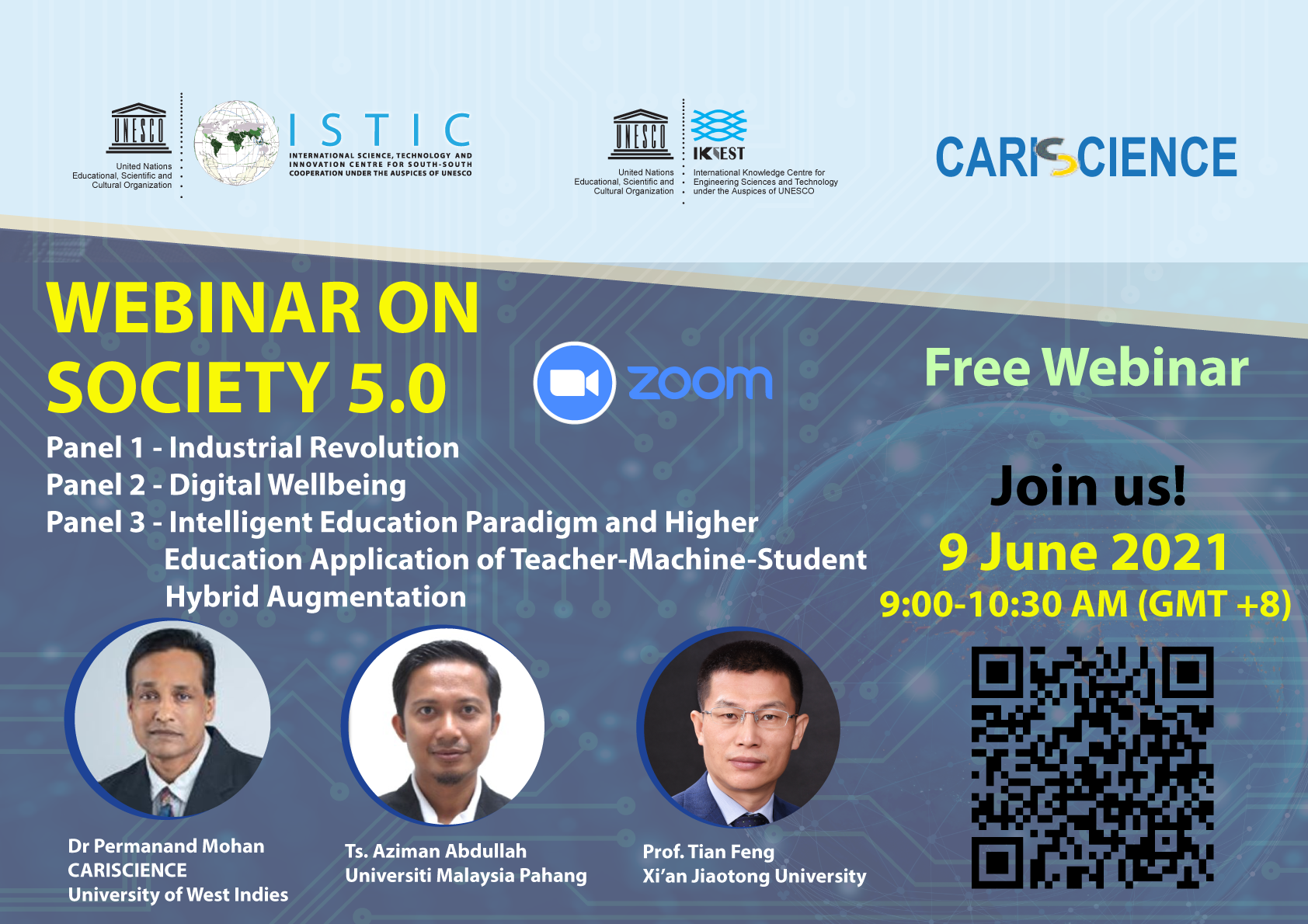 Introduction
The basic schema of Society 5.0 is that data are collected from the "real world" and processed by computers, with the results being applied in the real world. To cite a familiar example, an air-conditioning unit automatically keeps a room at the temperature programmed into the unit. An air conditioner regularly measures the room's temperature, and an internal microcomputer then compares the temperature reading with the registered temperature setting. Depending on the result, the airflow is activated or deactivated automatically, such that the room maintains the desired temperature. Many of the systems we rely on in society use this basic mechanism. It underlies the systems responsible for keeping our homes adequately supplied with electricity, and those that keep the trains running on time. This mechanism relies on computerized automated controls. When people use the term "information society," they mean a society in which each of these systems collects data, processes them, and then applies the results in a particular real-world environment.
So, what makes Society 5.0 different? Instead of having each system operating within a limited scope, such as keeping a room comfortable, supplying energy, or ensuring that the trains run on time, Society 5.0 will have systems that operate throughout society in an integrated fashion. To ensure happiness and comfort, it is not enough just to have comfortable room temperatures. We require comfort in all aspects of life, including in energy, transport, medical care, shopping, education, work, and leisure. To this end, systems must gather varied and voluminous real-world data. This data must then be processed by sophisticated IT systems such as AI, as only these IT systems could handle such a vast array of data. The information yielded from such processing must then be applied in the real world to make our lives happier and more comfortable. But does this not happen already? The difference is that in Society 5.0, the resulting information will not just guide the operation of an air conditioner, generator, or railway; it will directly shape our actions and behavior. In summary, Society 5.0 will feature an iterative cycle in which data are gathered, analyzed, and then converted into meaningful information, which is then applied in the real world; moreover, this cycle operates at a society-wide level.
Merging Cyberspace and Physical Space
Having clarified the basic schema, we now turn to the next question: what do we mean by "merging the physical space (real world) and cyberspace?" Cyberspace refers to a digital space in which real-world data are collected and analyzed to derive solutions. The term was coined to describe an imaginary or virtual area, where swathes of raw data are freely accessed and converted into useful information, which can then be shared with others. The infrastructure of this space is the vast array of computer networks.
However, in the case of Society 5.0, cyberspace does not just mean a space for exchanging vast volumes of data. It also means a space created by computer networks for analyzing problems and modeling practical, real-world solutions. When the computer systems of Society 5.0 analyze raw real-world data, they must do so using a structure that mirrors the real, physical world. As complicated as this may sound, the principle is very simple. To use the air conditioner example again, the internal microcomputer runs a program to measure a variable that describes the room temperature (let us call this variable "T"). The program compares the value of T with the registered temperature setting and then determines whether to activate or stop the airflow. Thus, such an air conditioner has a discrete cyber model that analyzes the room with a single parameter, T. Let us call this the "room model." Modern air-conditioning systems can also sense the positions of people in the room and customize the temperature accordingly. Such systems allow for a more complex cyber room model, one that uses a range of parameters - such as room size, temperatures of different parts of the room, and positions of the room's inhabitants. The more closely one wants to meet people's needs for happiness and comfort, the more granular (or closer to the real world) the cyber model must be. The ultimate objective of Society 5.0 is to incorporate real-world models into cyberspace such that they can deliver highly nuanced solutions to real-life problems. Society 5.0 is A People-centric Super-smart Society.
OBJECTIVES
The objective of this online seminar is to discuss on the Society 5.0 as the outcome of Industry 4.0.
WHO SHOULD ATTEND
This is an excellent program for:
Academician, economist, technologist.
Students.
Government officials and policy makers.
Anyone who is interested.
PARTICIPANTS
The organisers welcome participants from developing countries. The varied background of participants will allow for the exchange of knowledge, ideas, and experiences as well as opportunities for networking and collaboration.
SUBMISSION OF APPLICATIONS
Applicants are urged to apply online. The online application form can be accessed from the link: https://forms.gle/LyZWi6GZdPqSaf7 [google forms]
The link for the online application form can also be accessed from the website www.istic-unesco.org.
CLOSING DATE OF APPLICATIONS
Applications should be submitted to the ISTIC secretariat before 26 May 2021 (Wednesday).
SECRETARIAT & ENQUIRIES
International Science, Technology, and Innovation Centre
for South-South Cooperation under the auspices of UNESCO (ISTIC)
902-4, Jalan Tun Ismail
50480 Kuala Lumpur
Malaysia
Tel: +6013-9756120 (WhatsApp)
Email: azimnoor@istic-unesco.org
Website: http://www.istic-unesco.org
TENTATIVE PROGRAMME
9:00 Welcome Remarks from ISTIC, IKCEST, CARISCIENCE
9:15 Lecture 1 – Society 5.0 and Industry Revolution
9:30 Lecture 2 – Society 5.0 and Digital Wellbeing
9:45 Lecture 3 – Society 5.0: The Human-Centred Society
10:00 Q&A